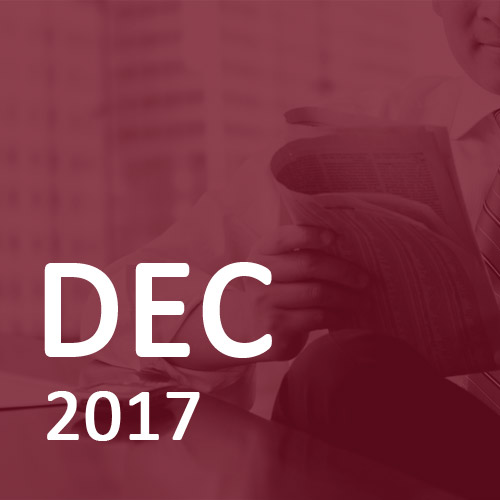 Glad Tidings From Charlwood's
As 2017 draws to a close we can reflect on investment markets that confounded most expectations; despite the constant bickering between two unstable nuclear powers, weather of Biblical proportions and a turnaround in monetary policy, bonds didn't collapse, and shares continued to rise with several stock-markets hitting record highs. We weren't alone in expecting a correction at some point during the year but, in the event, we witnessed unprecedented low levels of volatility.
We are delighted to report that, despite a cautious stance across the portfolios, we have continued to add value and outperform the equivalent benchmarks for the year-to-date with gains of between 6 and 10 percent, depending on the risk category.
The income portfolio, which is our biggest and most popular portfolio, gained over 6% year-to-date, despite a tougher year for fixed interest bonds. The portfolio has increased by 57% since inception in 2012 and is ranked 15th percentile (top 15% of funds) when compared to funds representing the equivalent benchmark.
Looking ahead to 2018, we're seeing a gradual change in global monetary policy, which is some way off from tightening but is starting to be a bit less accommodating. We believe that geopolitical concerns will remain, and possibly intensify, and uncertainty over the eventual Brexit outcome will most likely dominate the UK economy.
We still expect a correction at some point and feel this would be a healthy reminder that markets aren't a one-way bet. However, we appreciate that an environment of steady growth with low inflation will continue to attract investors seeking returns above those offered by cash deposits and we look forward to building further on our performance in 2018.
We hope you have a wonderful Christmas